PigmentsHairStudio has Moved!! Exciting news 💜 We are now located inside Palette Collective at 8920 Talking Stick Way, Suite 7 Scottsdale, AZ 85250. We can't wait for you to see the new space at your next appointment! I am no longer accepting new clients as the busy season approaches. I take pride in my work and Do not wish to spread myself too thin, I would be happy to offer a referral in my area. I will begin accepting new clients again by referral in the new year.
Celia
HairStylist.GoldwellArtist.Owner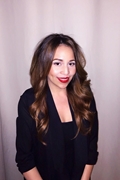 With 15+ years experience, I fall more and more in love with this industry every day! As a Goldwell Artist I am dedicated to furthering my education and sharing it with my fellow stylists. Participating in education across the US with top brands such as Bumble & Bumble, Kerastase, Oribe, Redken and Goldwell has allowed me to be well versed in all the latest trends and techniques in coloring, cutting and styling. I would be honored to be your Artist!
Pigments Hair Studio At Palette Collective
8920 Talking Stick Way, Room 7, Scottsdale, Az 85250
(602)525-3327
Tuesday

Wednesday

Thursday

Friday

Saturday

9:00am - 8:00pm

9:00am - 8:00pm

9:00am - 8:00pm

9:00am - 5:00pm

9:00am - 5:00pm